Purchase Satisfaction Guarantee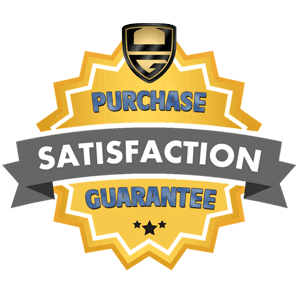 90 Day Purchase Satisfaction Guarantee Policy: 
When you shop with us you get great pricing, free shipping, quality products, large selection to choose from along with a lifetime warranty (most items)  and if that is not a enough we give you a purchase satisfaction guarantee. All customers get our Purchase Satisfaction Guarantee – When you purchase an item from us you have 90 days from the date of purchase to return an item. All returned items must be in new salable condition. Items returned in new condition between 46 and 90 days of the original purchase dates will be issued a 100% store credit, to be used towards another item. All returned items will be subject to a 15% postage expense of the item cost for the original postage & handling fees uguardsecurityproducts.com incurred for outbound shipping and packaging costs to the customer. All items returned must be in the original undamaged package and in proper working condition. We offer free shipping on all our products, but the shipping cost is an expense incurred by U-Guard Security Products and will a charge back and deducted from return store credit issued. No return shipping cost will be refunded for returning the item. The return shipping cost is to be paid by the returning party. Any Items that are returned in used condition, missing parts, accessories or the package is damaged are subject to 20% restocking fee of the product cost, along with 15% postage charge back of the item cost for the expense of the original outbound shipment incurred by U-Guard Security Products. The new return policy applies to all items sold on this website unless approved through the RMA that was issued directly from U-Guard Security Products LLC. 
General Return Policy: 
All products sold through uguardsecurityproducts.com fall under our standard 45 day return policy. This includes, but is not limited to defective items, damaged items due to shipments, new items no longer wanted or needed, and warranty items. We offer a standard 45 Day return policy, but also a 90 Day "Purchase Satisfaction Guarantee" (details below). All returns must be approved through our RMA Return Request Form on this page. The form must be filled out completely with return reason details so we can quickly reply with the RMA approval number and return shipment details. All products returned are subject to review and approval. Additional limitation and cost could apply based on the product type and or brand of the item(s), and could be subject to a restocking and postage shipping charges. Return postage cost is not offered or reimbursed under our standard 45 day return policy, unless specified or offered through the RMA approval processes. We reserve the right to hold all refunds, store credits or replacement shipments until U-Guard Security Products LLC receives the return. Refunds, store credit and replacements are issued or shipped within 14 days of receiving the return at our Atlanta, GA returns department facility.

Please reference our Return Policy Page for complete details and return authorization RMA from…