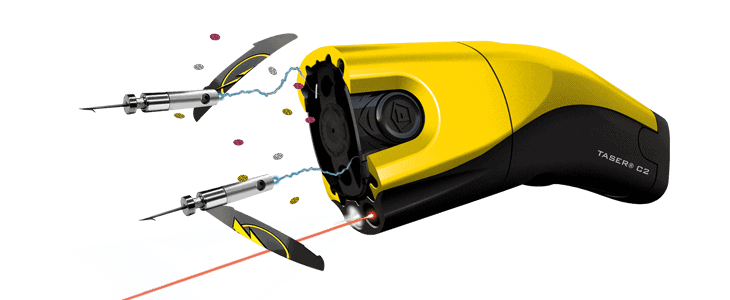 What are the taser law by State in the USA, we have the answers. If tasers are legal, or tasers illegal, is it legal to carry a tazer, is it legal to own a tazer? These are the most common questions we get from our customers. For the most part, tasers are legal in the USA with a few restrictions.  The only two states that are clearly defined as illegal to purchase, possess, and use for civilian self-defense as of early 2020 are the states of Hawaii and Rhode Island.  Several US states that were restricted in the past have updated and changed their laws regarding civilians owning a taser or electric dart guns for personal use for home protection and self-defense.  It is illegal to use an electric shock device in a manner that could result In breaking a law or being used in a crime.  
The main purpose for a taser is for your personal protection and defending yourself with a less lethal weapon.  As for law enforcement and police departments the laws are controlled and regulated by the individual government agencies and this information does not apply for the daily professional use of a taser.  The information on the U-Guard Security Products LLC website, is to be used as a consumer guide and reference only. It is the responsibility of the consumer to research the laws in their local area before purchasing an electronic stun device, taser, stun gun, CEW (conductive electrical weapon), or an electric dart gun of any type. U-Guard Security Products LLC only ships tasers and CEW weapons within the USA due to government regulation and restrictions on shipping and handling outside of the lower 48 states and Alaska of the United States of America.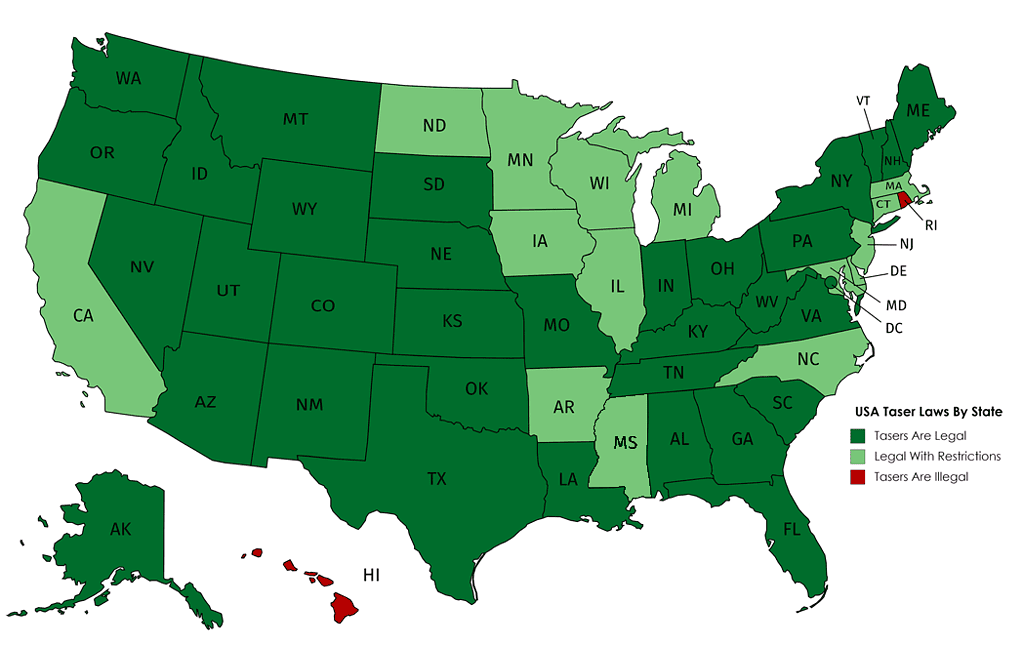 Understanding the taser vs stun gun, and the law requirements to handle and own one over the other is important.  The good news is the laws are very similar between the two, and the details are listed on this page for taser that will answer most questions regarding tasers and if they are legal in a state, city or county. Many people interchange the terms taser or tazer with stun gun.  A taser is considered an electric shock device that shoots projectile darts.  Tasers are generally much more expensive with advance features than a stun gun.  Most stun guns are a direct contact non-lethal electric device weapon that must touch the body for a few seconds to work properly.  Taser electric dart guns can be used as a direct contact stun gun also if the stun dart cartridge has been used and removed.  For many of the models, a taser is a stun gun that will shoot 2 stun darts on a thin cable from a onetime use replaceable taser cartridge.  
A taser allows the user to put distance (8' to 20' varies by  stun dart cartridge model)  between an assailant and themselves giving better control and safety.  The information on this page is regarding taser electric dart guns or stun guns that shoot projectile stun darts style weapons, and their civilian laws by state, city or county if applicable.  You can reference our Stun Gun Law Page for details regarding the laws on standard direct contact stun guns, stun flashlights, stun batons, or other style direct contact electric stun device weapons if you plan on buying a taser stun gun online from U-Guard.
The Laws regarding a stun gun vs taser are similar, but taser laws have some additional requirements on a few states with age, carry permits and background checks.  The information on this page has been gathered and compiled from various reliable sources and are current to date to the best of the information gathered. Above  you will find a detailed color-coded Taser Law Map by State.  Please review all the information below regarding the laws so you can get the proper information before purchasing, owning, or using a taser self-defense product.
Taser Law By State Quick Reference Guide
Taser laws - Are Tasers Legal In Your State?
Note:  The information on this website or by U-Guard Security Products LLC is researched and current to the best information available.  Laws and restriction change by state, city and counties often.  It is the consumers responsibility soley to know local laws before buying a taser online or in a store.  This information is for reference only and should not be taken as legal advice regarding ownership and or purchasing a Taser.  Check With Your Local Law Enforcement Agency / Police Department For The Laws in Your State Regarding Local Area Laws.